How does it work?
Smart Courses
Sign up using the form on this page

and tell us about your course. Select the Inspark offering (supplemental or textbook replacement) you would like to use (see below for a list). You can try any of the offerings as a student (self-enroll), or request instructor access to a demo.
We will email you (check your SPAM) with instructions on how to get set up, most of which can be found using our Instructors Guide.
Start working on your LMS integration right away by filling out the LMS Admin form.
Open Education Resources
Sign up using the form on this page

and tell us about your course. You can request demo access to review our Content Packages or Tools.

Tools: Chart It, Plan It, Review It, Tour It

Content Packages: Biology, Chemistry, Communications, English Composition I, Student Success

We will email you (check your SPAM) with instructions on how to get set up, most of which can be found using the Tool how-to videos or the support page.
Start working on your LMS integration right away by filling out the LMS Admin form.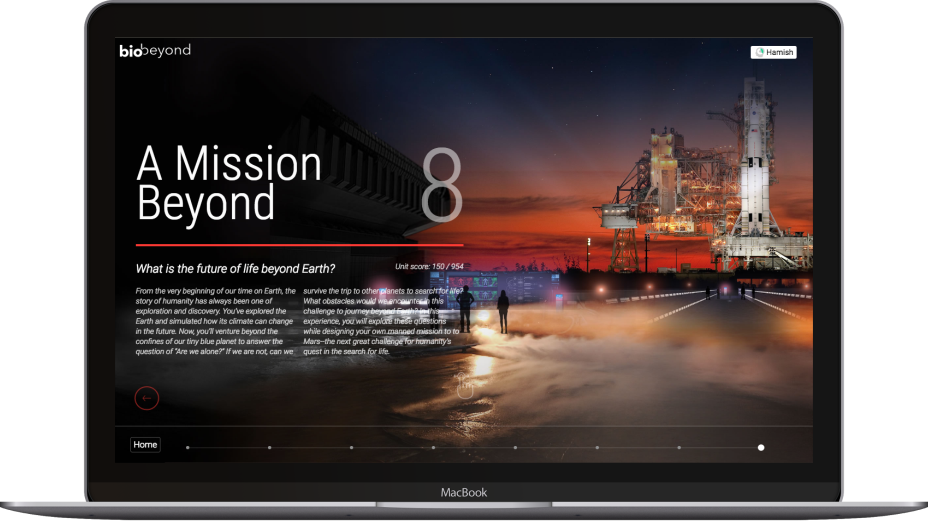 What is a Smart Course?
A Smart Course is a series of digital learning experiences, or lessons, mostly used as a textbook replacement, designed by our Inspark team and partners, such as Oregon State University, promoting active learning. Our mission is to enable a virtuous cycle of curiosity, exploration, and discovery, preparing students for the 21st century. Instructors are provided with tools to track student outcomes and customize the content using the Smart Sparrow platform. Instructor and student support is provided by the Inspark Science Network at our new home at Arizona State University.
What is available?
〉 STEM
Introductory Biology
BioBeyond is introductory biology courseware centered on the authentic, compelling question of how to find life in the universe. BioBeyond is a full textbook replacement or can be used alongside OpenStax Biology (OER), and has been created for a 1-semester, 4-credit introductory level biology course, geared toward general education for the non-science major.
$40 per student
Anatomy & Physiology
The A&P Primer consists of seven (7) interactive and adaptive lessons to provide students with the foundational concepts to be successful in an Anatomy & Physiology I course. This 4-5 hours of learner time can be used before the first day of class or during the first few days or weeks.
$25 per student
Introductory Chemistry
CriticalChem provides an adaptive journey into the study of conceptual chemistry, covering concepts for the typical 1-semester, 3-credit lecture course. The courseware consists of a preparatory unit geared toward breaking down the mathematical skills required to be successful, five (5) contextually driven units featuring many interactive simulations, as well as problem sets and guided readings paired with OpenStax (OER) Chemistry ebook.
$40 per student
Astrobiology
HabWorlds is courseware to support a 1-semester 4-credit astrobiology course, typically taken as a general education science course option for non-science majors. Students learn by doing as they create and destroy stars, hunt for planets, and search for signs of life. The course features a personalized quest, "Habitable Hunt", where students search a field of stars for evidence of inhabited worlds.
$40 per student
Astronomy I & II
Adapting and expanding on the HabWorlds courseware, this Astronomy courseware covers 2-semesters of 4-credit Astronomy courses with a set of over 80 homework lessons.
$40 per student
Introductory Geology
Living On The Edge is a 3-credit general education course, built around the driving question "Is there a safe place to live on Earth?". It has a strong focus on critical thinking and data-driven discovery of recent disasters.
$70 per student
Science for Citizens
Complementary courseware, 8 units in total, using a series of case studies to engage students in the practice of evaluating claims using scientific concepts and processes. The interactive and multidisciplinary approach of this course is particularly appealing to non-science majors. Content and concepts derive from the natural sciences, psychology and paradigms of critical thought. Case studies and claims are tied to medicine, environmental policy, UFOs, extra-sensory perception (ESP) and mysterious creatures like the Loch Ness Monster
$50* per student
*AASCU institutions have a discount at $25 per student
Science Writing
Complementary courseware, designed for General Chemistry Lab, that addresses the need for many students to improve their writing fundamental skill level, while also helping them develop the new writing skills that are expected of successful scientists. Consists of six (6) adaptive and interactive lessons (3 hours of learner time) targeting research & citation, data analysis and writing in science through modeling, shared writing, independent practice and reflection. Humor is used to create stickiness and diffuse serious nature of the content
$25 per student
ChemLabs, by Oregon State University
This is a suite of online interactive chemistry labs that can be customized, or used as is, to meet the needs of your institution. There are 28 labs available available in Prep Chem, Gen Chem 1, Gen Chem 2, and GOB.
$50 for all the labs and $25 for 7 labs or less
Galapagos Exploration (High School)
A series of new resources, adapted from the Journey to Galapagos unit in BioBeyond, has been created specifically for high schools.
In this five-part experience, students will:
observe variation between species of tortoises, birds, and lizards across the Galapagos Islands,
define and explore selective pressures including natural, artificial, and sexual selection,
define and explore mechanisms of speciation, including allopatry and sympatry,
develop scientific hypotheses and gather data to support or refute them,
frequently use a 100-generation speciation simulator to examine the long-term effects of selective pressures and preferences
$25 per student
〉 Humanities / Social Sciences
Global Challenges: Promise and Peril in the 21st Century
Global Challenges is a complete online course and textbook replacement that asks these questions: "what are the key challenges we face now and through the next 25-40 years?" and "what are we going to do to solve complex problems that require interdisciplinary approaches?" This online course is project based, pushing the boundaries of an online high-impact practice (HIP) for students in their first year and beyond. It also relies on open-educational resources (OER) from a variety of disciplines, making it suitable for all majors. Full textbook-replacement, geared toward a 3- or 4-credit course, there is a project-based approach to learning, emphasizing critical thinking skills.
$50* per student
*AASCU institutions have a discount at $35 per student
Inspark OER
Inspark OER is a program to develop a series of OER Tools, lessons, and textbooks, funded by a $3.4M grant from the Dept. of Ed. and lead by Arizona State University.
There are 5 Course Packages (Biology, Chemistry, Communication, English Composition I, and Student Success) and 4 tools (Chart It, Plan It, Review It, Chart It) available.